Issue:
Citrix ICA Connection Hangs During "Connection in progress..." | XTE.exe Process Runs with High CPU Utilization |
Citrix Error: "Remote server failed to execute the application launch request."
Product:
Pearl Echo
Applies to:
All Builds
Background:
Citrix Server provides a Session Reliability feature which allows user sessions to remain active when a network connection is lost. The process that provides this functionality is called XTE.exe. After Pearl Echo Workstation is installed on Citrix, users trying to connect with an ICA connection may hang with the following dialog box: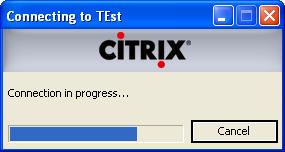 Alternatively, users may see the Citrix error, "Remote server failed to execute the application launch request."
This behavior may occur if the WinSock library or the TCP/IP stack are corrupted by the XTE process.
Solution:
This following process repairs the TCP/IP stack:
On the Citrix server, run the command "netsh winsock reset" (without quotation marks).

Reboot.

Install or re-install the Pearl Echo Workstation software on the Citrix Server. Reboot when prompted.
Related Info
Citrix Knowledge Base
Support Center ...to access all available Pearl Software support resources.
Knowledge Base ...to find solutions to common issues.
Submit Issue ...to e-mail the Pearl support team with your issue.
FAQ ...to get answers to the most commonly asked questions.