User Web Filtering and Internet Monitoring Software
You're in control and about to make your life easier. Pearl Software provides advanced computer monitoring software allowing you to enhance productivity and protect and conserve resources. Pearl Echo internet monitoring software features allow you to effectively engage in employee monitoring for better productivity. The web filtering and monitoring software benefits extend beyond productivity enhancement, which is why it is one of the best web filtering software for business available today! Pearl Echo's patented Mobile Monitor™ cybersecurity enables you to easily maintain the continuity of your Internet usage policies on and off your internal network.
Now With:
Echo Crypto.View™ - Secure sites act just like regular web sites. They can still be filtered the same way and by the same rules. The same is true for secure email. Safely view and control encrypted data (https, ssl, etc. ) without the use of complicated proxy servers or Internet traffic redirection.
Echo Smart.Capture™ - Focus on user trends while reducing monitoring and storage of non-pertinent user web activity.
HTTPSafety.Check™ - Ensure the strength of encrypted communications.
Safe Search - Enforce Google, Bing & Yahoo Safe Search settings.
Installation Automation - Silently deploy Pearl Echo cybersecurity agents from your Administration Console.
And More - See "What's New" here.
Keep Users In-Line While On-Line
We add security way-down-low to analyze network protocols so you have no worries about application choices, plug-in headaches or compatibility issues. Since 1996, our customers' networks have continued to evolve; our cybersecurity solutions continue right along side, helping to secure them.
Use, View and Compare Products
Learn More
What our Customers Say!
Amazing!!!
Abhijit S. | Gahanna, OH
What our Customers Say!
Pearl is the best, you're not competing with anyone, I did the research, we are just weighing the costs.
Curtis G. | Chicago, IL
What our Customers Say!
We compared and tested your product against Websense and I'm happy to report that I am choosing your product which was much easier to implement and to use.
Patricia S. | N. Venice, FL
What our Customers Say!
All I can say is Wow!! I'm so impressed. This is 200% more valuable than SpectorSoft. So glad we switched...The officers are going to love this!
Sandra H. | Kansas City, MO
What our Customers Say!
Thank you guys for your help!! So many times a company blames the other party for the problem and doesn't help - you guys are different - [even when its not your problem]!!
Joe M. | Manchester, TN
What our Customers Say!
I think this is the quickest transaction I have done in my 10 plus years in this business. I appreciate Pearl's dedication to precision.
John B. | Lubbock, Texas
What our Customers Say!
This is a better way to handle spyware. (Forrester finds 1 in 10 sites infected with malware.)
Robert M. | Grand Rapids, MI
What our Customers Say!
Echo does so much more than Websense; And without the yearly punch in the nose!
Hugh T. | Wilmington, DE
What our Customers Say!
The technician was very helpful and even helped me get some items through that were being blocked. 5 Stars!!!
Casey W. | Waco, TX
What the Press Says!
For the ultimate Internet Management Software, Pearl Echo ranks highest on our list.
TopTenREVIEWS
What the Press Says!
Pearl Echo Suite: Content Security Solution of the Year Finalist
Computing Security Awards
What the Press Says!
Easy to install and deploy; filters simple to configure; the management software is functional and intuitive.
SC Magazine Awards
What the Press Says!
For the ultimate Internet Management Software, Pearl Echo ranks highest on our list.
TopTenREVIEWS
What the Press Says!
A nice tool for anyone who pays for bandwidth and doesn't want employees surfing overtime.
Windows Magazine
What the Press Says!
Allows Internet control to remain a private issue.
ABC News
What the Press Says!
Arms you with information.
LA Times
What the Press Says!
The most comprehensive software package on the market…Features are just too many to mention - you'll have to check this out and try it for yourself.
Yippee Online
What the Press Says!
The best product for giving you control over monitoring and filtering access.
PC Magazine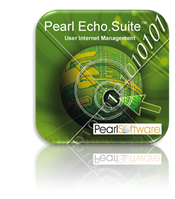 Core Cybersecurity Features and Benefits!
Categorizes surfing habits and provides insight into the amount of time and cost users spend on the web.
Increases productivity by reducing nonproductive Internet usage.
Reduces the risk of unauthorized transactions and communication of sensitive data.
Increases management's awareness by providing informative reports that are automatically generated and distributed.
Preserves access bandwidth for planned and intended use.
Simplifies administration by creating custom Internet access profiles based on existing Directory users, groups and computers.
Maintains accountability by sensing access violations and archiving information for future retrieval.
Your Network Needs to Be Dynamic
Competing solutions that rely on your existing infrastructure are not as comprehensive and become parasitic when matched with your changing environment and evolving information needs. Pearl Software's free-stranding web filtering and Internet monitoring solutions put you in control of endpoint Internet access, regardless of where your users are and regardless of what your network looks like. Manage:
World Wide Web World Wide Web
E-mail E-mail
File Transfers / Downloads File Transfers / Downloads
Bandwidth Consumption Bandwidth Consumption
Skype Instant Messaging & Chat Skype Instant Messaging & Chat
Secure Web (Https) Secure Web (Https)
Dark Web Dark Web
Web-based E-mails Web-based E-mails
Blogs Blogs
Application Access Application Access
Citrix Apps Citrix Apps
MS Terminal Server Apps MS Terminal Server Apps
RESOURCES:
The Inventors
For more than 15 years, Pearl Software has been providing organizations with practical computer monitoring software solutions to monitor and filter employee Internet use. >>>
The Experts
Use our site to find information and get guidance from leading authorities in the field of Employee Internet Management or download free trials or a sample Internet Acceptable Use Policy. >>>
The Competition
See what candid customers have told us in their evaluation of Pearl versus Websense, Surfcontrol and a host of other proxy and sniffer based solutions. >>>