Option - Microsoft SQL Server
IM.Echo stores monitored Internet activity in its native Microsoft xBase database without any additional setup required.
For installations with high volume monitoring loads and large storage requirements, IM.Echo can easily be configured to store monitored Internet activity to a Microsoft SQL Server. The IM.Echo Server Software can be loaded on the same server that is running Microsoft SQL Server or any other Microsoft server that resides in a trusted Domain. Data stored on Microsoft SQL Server can be viewed and reported upon from the IM.Echo Administration Console.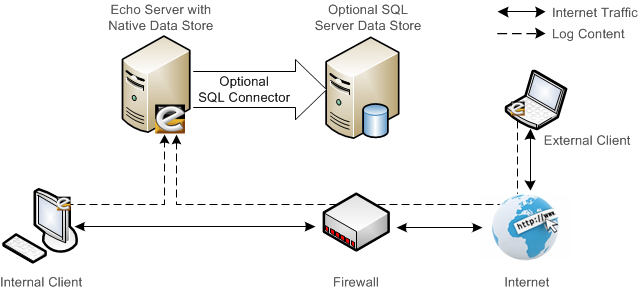 Configuring IM.Echo to store data to Microsoft SQL Server provides additional flexibility to your organization: IM.Echo Servers can be placed at various locations to provide distributed cybersecurity controls yet all data can be centrally stored and managed for global analytics and increased security.