Employee Web Filtering and Internet Monitoring
Pearl Software provides advanced computer monitoring software including employee Internet monitoring, filtering and management capabilities allowing you to enhance productivity and protect and conserve resources. Pearl Echo's patented Mobility Monitor™ technology enables you to maintain the continuity of your Internet usage policies on and off your internal network.
Now With:
Echo Crypto.View™ - Safely view and control encrypted data transfer without the use of complicated proxy servers or Internet traffic redirection.
Echo Smart.Capture™ - Reduce monitoring and storage of non-pertinent user web activity.
Safe Search - Enforce Google, Bing and Yahoo Safe Search settings.
Keep Users In-Line While On-Line
We add security way-down-low to analyze network protocols so you have no worries about application choices, plug-in headaches or compatibility issues. Since 1996, our customers' networks continue to evolve; we continue right along side, helping to secure them.
Use, View and Compare Products
Learn More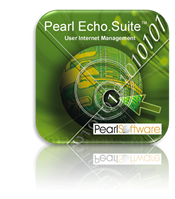 Core Features and Benefits!
Categorizes surfing habits and provides insight into the amount of time and cost users spend on the web.
Increases productivity by reducing nonproductive Internet usage.
Reduces the risk of unauthorized transactions and communication of sensitive data.
Increases management's awareness by providing informative reports that are automatically generated and distributed.
Preserves access bandwidth for planned and intended use.
Simplifies administration by creating custom Internet access profiles based on existing Directory users, groups and computers.
Maintains accountability by sensing access violations and archiving information for future retrieval.
Your Network Needs to Be Dynamic
Competing solutions that rely on your existing infrastructure are not as comprehensive and become parasitic when matched with your changing environment and evolving information needs. Pearl Software's free-stranding web filtering and Internet monitoring solutions put you in control of endpoint Internet access, regardless of where your users are and regardless of what your network looks like. Manage:

World Wide Web

E-mail

File Transfers / Downloads

Bandwidth Consumption

Instant Messaging & Chat

Secure Web (Https)

Dark Web

Web-based E-mails
Blogs

Application Access

Citrix Apps

MS Terminal Server Apps
RESOURCES:
The Inventors
For more than 15 years, Pearl Software has been providing organizations with practical computer monitoring software solutions to monitor and filter employee Internet use. >>>
The Experts
Use our site to find information and get guidance from leading authorities in the field of Employee Internet Management or download free trials or a sample Internet Acceptable Use Policy. >>>
The Competition
See what candid customers have told us in their evaluation of Pearl versus Websense, Surfcontrol and a host of other proxy and sniffer based solutions. >>>